Current Updates on US Immigration policy, law, and the presidency of Donald J. Trump.
Issues and Policy Concerns
TPS Termination for El SalvadorJanuary 8, 2018: DHS/USCIS Announce End of TPS El Salvador
USCIS today announced the END of TPS for El Salvador.  This will impact ALL current TPS recipiants from El Salvador and marks the newest chapter in the Trump Administration's effort to take a harder view on long-established immigration policies.
What should you know?
Applies to 

all

current and former TPS Applicants from El Salvador
TPS recipients will have one additional renewal/registration period (to be announced)
TPS Status will finally terminate on September 9, 2019
Those with 

existing

deportation orders are likely to be removed first
What should I do?
Current and past TPS recipients should meet with counsel 

immediately

to assess their possible options.
Confirm whether TPS recipient has a final order of removal (already) from the US Immigration Court.  Many entered the U.S. and acquired removal orders as a result of this initial entry (by failing to go to court), and have been safely in the U.S. since that time as a result of their TPS.
Consider other available options to remain in the US and prepare for removal proceedings.
Final Take-away?
This new policy announcement is bound to have a dramatic impact on those who have made the U.S. their home over the last decade and a half.  Many individuals married, began raising a family, and have built strong connections to the U.S. Many feel that the U.S. is their country.  However, it is important to remember:
This alone will not save you from removal.
Current TPS recipients must move quickly to assess their possible relief from removal and prepare for the worst.
January 25, 2018
President Trump Proposes Ending Family-Based Immigration Categories
On January 25, 2018, President Trump announced his planned immigration reforms. These reforms include funding for his border wall and plans to overhaul the current immigration system in important ways.  Some keys points are below:
Grant a path to Citizenship for DACA/DREAMERS
The President proposed a "path to citizenship" for certain DACA/DREAMERS.  Although it is not clear who would be impacted or how it would be enacted, this proposal is likely to create a path for those already receiving DACA protections, but suggests a broader category for others not already included in the DACA program.
End the Diversity Visa Lottery
Mr. Trump has long said that he felt that adding to the diversity of this Country is unimportant. Ending the Diversity Visa program is his "solution" to this "problem".  Mr. Trump would end the program and shift our immigration system towards a "merit based" approach which would prioritize skilled workers and eliminate some humanitarian visa classifications.
End certain Family-based Immigration Classification
Perhaps the most disturbing new trend is the plan to end visa classification for certain family members.  Mr. Trump's proposal would END the ability for US Citizens to petition for their brothers and sisters and their parents. This is an extremely important development for those who have come to this country, worked hard, and fought to become US Citizens.  For many, this path held the promise of eventually bringing their parents to the U.S. to be reunited.  Mr. Trump's proposal would end the ability of US Citizens to Petition for their parents.
Mr. Trump's announcement specifically states that it would be "proactive" not "retroactive" meaning current US Citizens should immediately file for their parents if they are eligible.
Days
:
Hours
Countdown to the Next Presidential Election
Minutes
:
Seconds
Donald J. Trump has made immigration policy a central issue in his presidency. From the border wall to the forced removal of undocumented immigrants from inside the U.S., policy is changing rapidly in Donald Trump's new America.
While stirring fear and hatred against millions of lawful immigrants to the Country, and ignoring humanitarian realities, President Trump has still found time to spew anti-immigrant and hateful disinformation regarding Muslim-Americans and refugees from the world's poorest and most war-torn regions.  His repeated calls for ending refugee assistance for Syria calls into question not only his understanding of the refugee system already in place in this country, but also America's continued need to be a leader in times of crisis.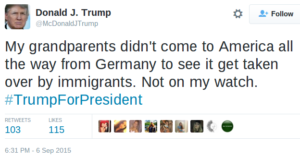 From the campaign trail to the Oval Office, Donald Trump has consistently rallied his supporters against immigrants. His anti-immigrant rhetoric and sentiment speaks to the worst in American ideals, and does a disservice to the countless millions of immigrants who have built this country, made it stronger, and continue to fight for the principles on which this Country was established.