The Presidency of Donald J. Trump
Days
:
Hours
Countdown to the Next Presidential Election
Minutes
:
Seconds
Donald J. Trump has made immigration policy a central issue in his presidency. From the border wall to the forced removal of undocumented immigrants from inside the U.S., policy is changing rapidly in Donald Trump's new America.
While stirring fear and hatred against millions of lawful immigrants to the Country, and ignoring humanitarian realities, President Trump has still found time to spew anti-immigrant and hateful disinformation regarding Muslim-Americans and refugees from the world's poorest and most war-torn regions.  His repeated calls for ending refugee assistance for Syria calls into question not only his understanding of the refugee system already in place in this country, but also America's continued need to be a leader in times of crisis.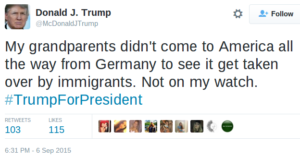 From the campaign trail to the Oval Office, Donald Trump has consistently rallied his supporters against immigrants. His anti-immigrant rhetoric and sentiment speaks to the worst in American ideals, and does a disservice to the countless millions of immigrants who have built this country, made it stronger, and continue to fight for the principles on which this Country was established.
Issues and Policy Concerns
Lee Francis Cissna, Trump's nominated Director for USCIS has indicated he would change a number of policies if he were given the chance.
Those changes include: